Central Asia Explorer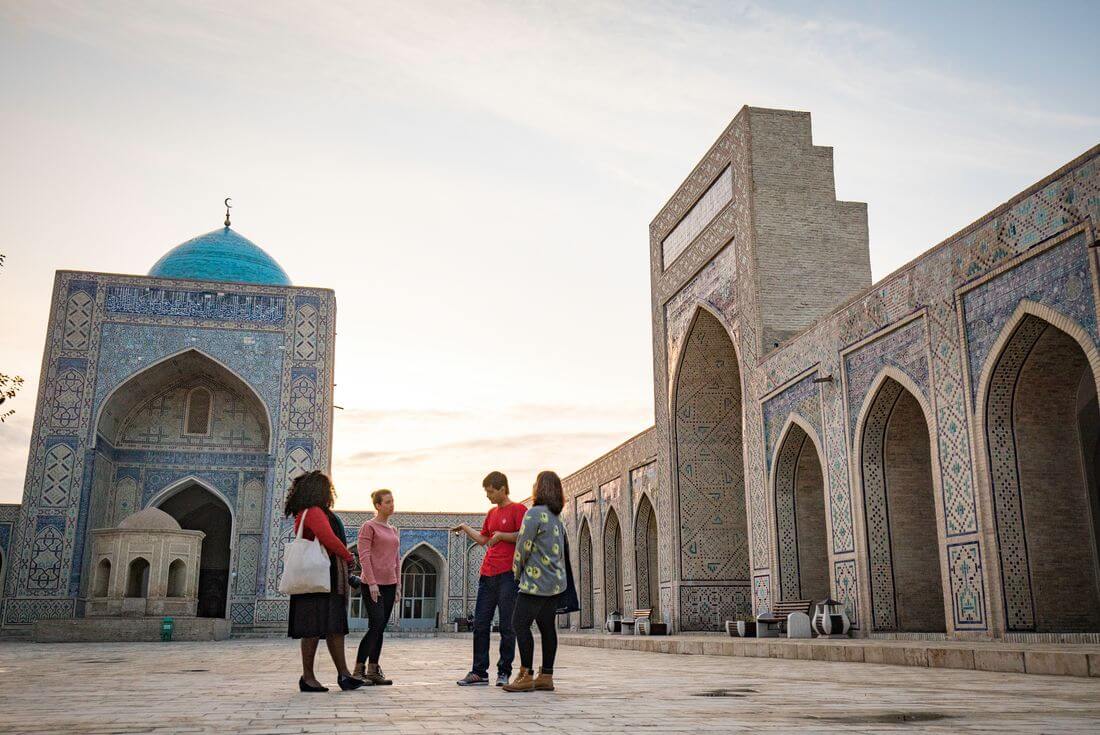 Central Asia Explorer
Be entranced by the beauty of Kyrgyzstan and historical wonders of Uzbekistan on this 17-day tour. Traverse landscapes of alpine lakes and mountains interrupted only by dots of yurts, feel the divine artistic power of the detailed mosaics and towering minarets of ancient cities, and be welcomed into homes and family-run businesses by locals. A mix of ancient nomadic cultures, various iterations of both conservative and progressive Islam, Soviet influence and post-independence nationalism mean Central Asia is home to unique traditions. Travels here will leave you raving about the region for years to come and planning your next trip back as soon as you get home.
Activities
Bishkek - City Tour
Shamsy Valley - Burana tower
Don Aryk - Local home visit & horsemanship demonstration
Kochkor - Market
Kochkor - Women's Felt Co-op
Uzgen - Uzgen Minaret & Complex
Osh - Sulaiman-Too Mountain
Osh - National Historical and Archaeological Museum Complex
Tashkent - Chorsu Bazaar
Tashkent - Khast Imom Complex & Moyie Mubarek Library Museum
Tashkent - History Museum of the People of Uzbekistan
Samarkand - Bibi-Khanym Mosque
Samarkand - Gur-e-Amir Mausoleum
Samarkand - Shakh-I-Zinda
Samarkand - Registan
Samarkand - Paper making workshop & home cooked lunch
Shakhrisabz - Ak Saray Palace
Shakhrisabz - Kok-Gumbaz Mosque
Shakhrisabz - Dor-ut Tilovat Memorial Complex
Shakhrisabz - Dorus Saodat Complex
Bukhara - Ismail Samani Mausoleum
Bukhara - Sitorai Mohi Hosa Palace
Bukhara - Chor-Bakr Necropolis
Bukhara - Ark Fortress
Bukhara - Kalon Mosque
Vobkent - Minaret
Gijduvan - Ceramics workshop
Highlights
Wander through the grand square Registan in Samarkand, admiring the imposing architecture from afar and the detailed craftmanship on the tiling up close.
Walk under pointed arches and between dome-topped mausoleums the size of apartments in the Shak-i-Zinda necropolis, which has pieces from the 14th–19th century.
Travel along the Chychkan River beneath the towering peaks of Kyrgyzstan's Tien Shan range, mountains even more spectacular for emptiness of the valleys below them.
Stay in a classic felt-lined yurt on the shore of alpine Song-Kol Lake, where you can watch the sunset behind craggy mountains before warming yourself by the stove.
Visit a Kyrgyz village and watch locals play a traditional horseback sport like odarysh (wrestling on horseback) or kok-baru (goat polo).
We get it – travel's a big decision. It's not every day you fly across the world to wander the souks of Marrakech or enjoy a dreamy Angkor sunrise. But for us, it's been our everyday for the past three decades (whew, we're old). Let's just say we know what travellers
really
want: a balance of inclusions and free time, a mix of classic highlights and local secrets you won't find on Google. And of course, an authentic real life experience.
Our leaders are born and raised in-count
...